Posted on 12/13/2017 5:00:00 PM.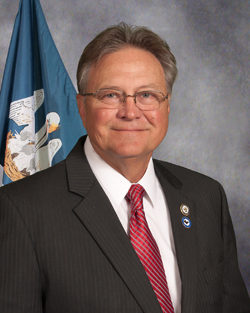 A "Report Card on State Efforts to Improve Financial Literacy in High Schools" gives Louisiana schools a "D", down from a "B" grade just two years ago. Minden State Representative Gene Reynolds authored a 2016 law that requires financial literacy to be taught in high schools, but it appears some schools are only teaching personal finance as another existing course of study.
"I think we're going to have to put it in the
curriculum
if we're gonna make sure this gets taught."
Gene Reynolds, financial literacy, Board of Elementary and Secondary Education
---
Posted on 12/13/2017 3:16:00 PM.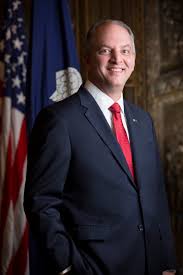 Governor John Bel Edwards spoke with House Republicans today about the state's looming 1.1 billion dollar plus budget deficit. Edwards told conservative lawmakers he would like to close the budget gap by using the recommendations developed by a budget and tax task force.
More
John Bel Edwards, Republicans, fiscal cliff
---
Posted on 12/13/2017 11:31:00 AM.
The Assumption Parish Sheriff's Office says they've arrested and fired one of their deputies after he allegedly wrecked his patrol car while driving intoxicated early this morning. Commander Lonny Cavalier says authorities responded to calls of a vehicle in a ditch and it turned out to be 22-year-old Deputy Joseph Edward Repp of Pierre Part.
More
Assumption Parish Sheriff's Office, Lonny Cavalier, Joseph Repp
---
Posted on 12/13/2017 10:36:00 AM.
A Boutte man says his dog saved his life from a house fire over the weekend. Calvin Baldwin says he was exhausted after coming home from the LHSAA High School Football State Championship games and fell asleep on his couch.
More
Calvin Baldwin, Boutte, house fire, Rusty
---
Posted on 12/13/2017 9:59:00 AM.
The St. Landry Parish Sheriff's Office is trying to figure out how two bodies ended up in Lake Dubbisson. Authorities have positively identified 21-year-old Lia Ali Kazan of Shreveport and 30-year-old Anthony Michael Murray of Elmer. Sheriff Bobby Guidroz says they are trying to find out why the two were together.
Lake Dubbisson, kidnapping, Lia Ali Kazan, Anthony Michael Murray
---
Posted on 12/13/2017 3:00:00 AM.
Louisiana's original craft brewery Abita Brewing Company is helping to celebrate New Orleans' Tricentennial next year with a new brew called Maison Blanc. Brewmaster Mark Wilson says the concept comes from the area's long standing history with French culture and lifestyles.
More
abita brewery, new orleans 300th birthday, Maison Blanc
---
Next Entry