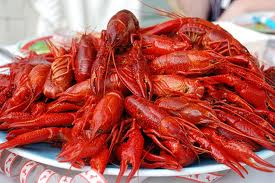 The arctic blast keeping Louisianans indoors is threatening this year's crawfish harvest. The state's winters are usually wet and mild, perfect conditions for breeding plenty of big crawfish, but the near record lows have halted production. Louisiana Crawfish Promotion Board President David Savoy says if the below freezing temperatures continue, it could kill off a large part of this year's harvest.
"They burry in the bottoms of these ponds and it's how cold the bottom is going to get, if the bottom, the mud, gets down to the point where it's really cold, it can kill em."
Savoy says this year's struggles are tough to swallow after last year's crop came with a low profit margin. He says in the meantime, expect much smaller crawfish.
"And that's what you're going to have with these crawfish. If you have any production at all, it's going to be on the small side."
The sudden freeze could end up making crawfish a hard find in time for an earlier than usual carnival season. Temperatures are set to return to winter norms next week, and Savoy says that's the earliest he expects fishermen to be able to start trawling again.
"Actual decent production, I'm going to say, you're looking minimally, depending on rain and temperatures, at least the middle to the end of next week."