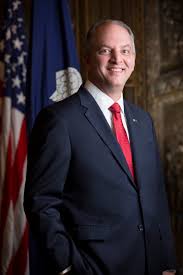 Governor John Bel Edwards celebrated the passage of the budget bill at the end of a grueling start to the year that saw four total sessions needed to solve the state's impending fiscal cliff that's been at the center of state politics since short term taxes were passed two years ago. Edwards congratulated lawmakers on keeping healthcare and education off the chopping block.


"Tonight parents and students can go to sleep assur3ed that TOPS will be fully funded, and that we are giving them a scholarship to an institution that is fully funded as well."
Edwards, who is gearing up for what is expected to be a tough reelection battle in 2019, says the budget may not score anyone political points, but it does give the state stable finances for the next 7 years.
"It is not everything that we wanted it to be, nobody got everything that they were looking for, but everybody got something. That's what a compromise is.
But the Governor lamented how long the process to fix the fiscal cliff took, which began nearly two years ago, and says he's disappointed the legislature rejected all tax reforms ideas. Despite those failures, he says he's optimistic about the state's future.
"It shouldn't have taken this long, it shouldn't have been this hard, but the progress that we made this week indicates what I have known all along: there is far more that unites us than divides us."