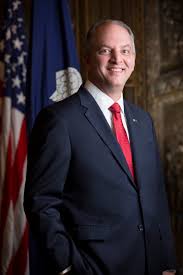 Governor John Bel Edwards addressed the legislature, calling on the state's governing body to put party politics aside to fix the impending fiscal cliff that triggers July 1st after a series of sales taxes expire. If no deal is struck, TOPS, higher Ed, and healthcare would see massive cuts. Edwards says it's time to put party aside for the future of the state.


"My number one goal is to put this problem behind us so we can get back to the business of making this state an even better place to live, but I need you to follow through with your end of the bargain and work with me. "
The governor called on lawmakers to adopt his plan that would reduce the state sales tax, and replace the funds by widening the tax base, removing certain business sales tax exemptions, and compressing income tax brackets. Edwards says funding popular state programs should be every legislator's objective.
"I think we can summon the courage to replace 994 million dollars to fully fund TOPS, stabilize support for higher education, and adequately fund healthcare and other critical priorities."
Because the fiscal cliff is a revenue issue, it must be addressed in a special session. Edwards says putting a deal off until a possible June special session would have major repercussions for the 2018-2019 college academic year.
"There are thousands of parents who lie awake at night waiting for us to act so they can prepare to send their kids off to college next fall. "