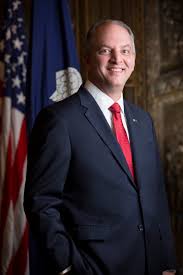 Governor John Bel Edwards addresses the issue of gun control during his monthly call-in radio show. Edwards says in the wake of the latest mass shooting in Florida, he's calling for a more robust background check system for firearm purchases.

"The things that I have consistently said is that I really believe that we ought to look at the background check system. Common sense measures like this enjoy the support of upwards of 80 percent of the people."
Edwards says he would like to see a purchasing ban for those on the No-Fly list, and firearm bans for those who commit violent crimes, and have a history of mental illness.
Edwards also came out against aftermarket additions that alter the capabilities of legally purchased automatic rifles.
"I think devices like the bump stock ought not to be legal because we don't allow fully automatic weapons to be sold to people."
Florida shooter Nickolas Cruz was 18-years-old when he lawfully purchased ten rifles from South Florida dealers. Edwards says legislators may need to look at increasing the legal purchasing age for such weapons.
"We have two ages for adult hood, ones 18, ones 21, depending on the activity. I don't know if I have a firm opinion on that but I would think that it's a reasonable question to ask and it's something that we should consider."