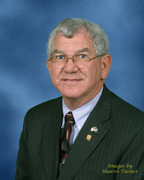 Jonesboro state Representative and House Appropriations
Committee Chairman Jim Fannin has left the Democrat Party to join the Republican party.

Fannin says the Democrats are now TOO far to the left, and he can no longer stand wth them on issues like gay marriage, gun control. Fannin has long considered himself a so-called Blue Dog Democrat; a party member who leans toward more conservative values.