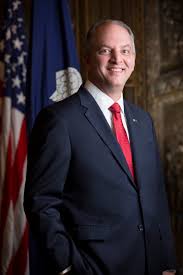 Governor John Bel Edwards kicked off the regular session today by laying out his legislative agenda, and tearing into lawmakers who failed to fix the fiscal cliff. The governor highlighted the plight of Louisiana's highest performing students, who could begin to be poached by universities in other states with TOPS still up in the air. Edwards says right now Bama is beating us academically, and athletically.


"Losing to Alabama in the classroom should be every bit as painful as losing to them on the field, and it's about time we start winning on both."
If lawmakers fail to find a solution to the billion dollar budget gap, TOPS will be in line for an 80 percent cut.
The governor proposed an economic agenda that he says would cut back on unnecessary regulations hampering the state's economy. He says Louisiana has some of the most burdensome occupational licensing restrictions in the nation.
"Repealing licensing requirements for florists, which we are the only state in the nation to require."
The governor also touched on the minimum wage, equal pay, and sportsman's licenses.
One area where Edwards did not provide specifics was in gun control and school safety. Instead, he called for the beginning of nonpolitical dialog about the topic that's dominating state houses across the country.
"There's a national conversation that's being had right now about how we can better protect our children at school, and I know that we can have a constructive dialog here in Louisiana over the course of this session.
The governor also called for mandatory anti hazing education in universities.