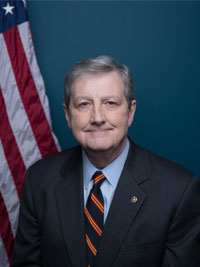 U.S. Senator John Kennedy files legislation that would prohibit the federal government from giving contracts to banks like Citigroup and Bank of America, who have decided to penalize or not do business with lawful pro-second amendment companies. Kennedy says these banks were not picky about whose money they were taking during the financial crash.


"I don't remember at the time, Citigroup or Bank of America saying well is this money coming from people who believe in the 2nd amendment or not," said Kennedy.
Citigroup will restrict capital to companies that sell guns to those under 21, or who do not take background checks. Bank of America is refusing to finance companies that manufacture assault weapons.
Kennedy says the banks who are pushing social views onto customers is elitist.
"You've got some people at the top who just think they are smarter than the rest of us in America. As a result, they need to tell us what we need to believe and not believe."
The legislation is titled the No Red Banks and Blue Banks Act.