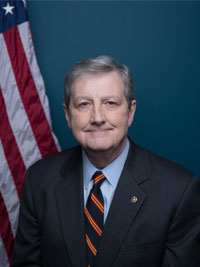 Senator John Kennedy says the vaunted Blue Wave ended up being more of a Blue Dribble as the Democrats took control of the House, and flipped seven governorships, but lost seats in the Senate. Kennedy says the performance is proof that Trump isn't a fluke.
"Clearly President Trumps rallies matter, the Republicans in America got energized."

"Part of it was Donald Trump, the other part was the Kavanaugh hearings."
Kennedy is now faced with a much different political landscape now that the upper chamber will have to deal with a lower chamber held by Democrats if they hope to pass any further legislation. The Senator says he hopes the other party will stay away from the president and work on issues like…
"We have to address the cost of health insurance in this country, and we need to revamp our social programs to implement a work requirement."
Kennedy says he'll let us know if he plans to run for governor in 2019 by December 1st, but that none of the events last night have swayed him either way. But he did note that a Republican challenger would stand a good chance given Democrats and Edwards' allies underperformed in the Secretary of State's race.
"The favorite, Representative Stokes, who was supported by the Governor, lost pretty handily. All of the Democratic votes only amounted to about 43 percent."