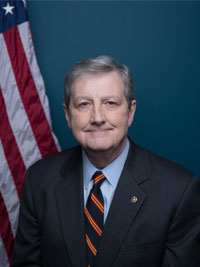 Michelle Southern reporting.
Now that Senate GOP leaders have decided not to vote on a bill that would repeal Obamacare, Louisiana's Junior Senator John Kennedy says it's time for Congress to focus on tax reform. He says cutting taxes is the only thing will get the economy moving again.
"We ought to be growing our economy at about 3% a year," said Kennedy. "Right now it's about half that. And in America today, government is growing faster than our economy."
Kennedy says citizens are taxed on just about every single thing they do, and over-regulation is strangling the economy. He says his goal is to implement tax cuts, both for middle class Americans and for businesses, by November.
"And make those tax cuts retroactive to the first of the year, and sit back and watch the economy roar," said Kennedy.
Kennedy says those who disagree with him feel like the more money you throw at government, the better it will be able to take care of people. He says people need to be able to take care of themselves.
"I think God gave us free will and responsibility, and government can't solve all of our problems, no matter how much money we throw at it," said Kennedy.