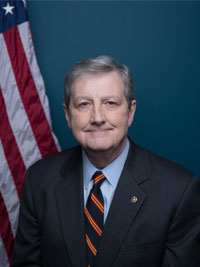 U.S Senator John Kennedy says he'll make a decision by December 1st on whether he'll run for governor next year. Fellow Republicans Ralph Abraham and Jeff Landry are also looking at challenging Democratic Governor John Bel Edwards, so ULM Political Science Professor Joshua Stockley says the December 1 deadline is critical.


Kennedy says he's happy with his current job, but its "hard to stomach what is happening in Louisiana right now."
The junior senator also released a poll from Survey USA that shows Kennedy leading Edwards in a runoff 48% to 39%. And the survey also says Kennedy has the highest favorability ratings of any statewide elected official.
"Senator Kennedy has the highest name recondition of the speculated candidates, and the largest potential donor database, and everyone is waiting to see if he is in or out," said ULM Political Science Professor Joshua Stockley.
And Stockley says regardless of what happens in the mid-terms, he expects Kennedy to announce he's jumping in, because it would be the culmination of a dream Kennedy has openly waxed, dating back to his time in state government.
"He has hinted for years prior to him running for the Senate that he has always had an admiration for the governor's offer."
The only Republican to have officially announce his campaign against Democrat John Bel Edwards is Baton Rouge Businessman Eddie Rispone, who has pledged five-million dollars of his own money for the race.