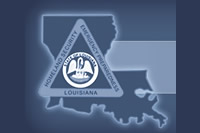 The Governor's Office of Homeland Security and Emergency Preparedness and the Louisiana National Guard are getting together with several key state agencies for an emergency response exercise on Saturday. GOHSEP spokesperson Mike Steele says this is an effort to see that everyone synchronizes response efforts the next time disaster strikes.
"It's the same think we ask the public to do with our Get a Game Plan messaging," said Steele. "We have to do that on the state side to make sure that we're ready to answer any call for support that comes out."
Steele says experts continue to say our warm winter conditions could mean an increase in severe weather for the spring and early summer. He says there is a lot that goes in to responding to an emergency, from the communications side, to partners on the local level indicating where the needs are.
"So we train on that year-round," said Steele. "But you see a lot more activity towards the late spring, and it's mostly in anticipation of hurricane season."
Steele says the response efforts from these groups continue to get better and better thanks to exercises like this, but it's also important for the public to know that rescue may not come right away.
He says with the floods last year, some communities were completely isolated because of water impacting roadways which is why residents need their own strategy.
"That three day plan, where you need to be ready and capable of taking care of yourself for an extended period of time," said Steele.
The disaster response exercises are taking place in St. Charles, Orleans and St. Tammany Parishes.