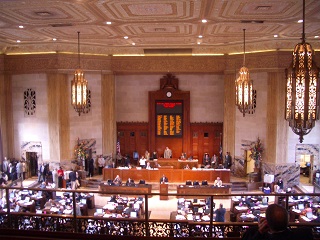 The special session is on the verge of collapsing without a tax plan that addresses a looming one billion dollar shortfall. The House has failed to get behind a proposal to raise revenues to replace expiring sales taxes. Republican Barry Ivey of Baton Rouge says GOP legislators are not willing to work with a Democratic governor.
"We don't want a democrat governor to get re-elected and we don't want to give him a political win by doing tax reform," stated Ivey.


Chairman of the House Republican Legislative Caucus, Lance Harris, blames the governor for poor negotiating tactics.
"The speaker kept visiting with the governor to see what could be done. We go forth and all of a sudden… the rule got changed again. The goal post got moved. What happened?" said Harris.
A sales tax bill that would have generated 300-million dollars annually was overwhelmingly defeated. After the vote, the governor issued a statement that said he was in disbelief the speaker abandoned the plan that he put on the table and ended the day in such a chaotic fashion. Edwards says some lawmakers are unwilling to negotiate.
"You've got to work in good faith and you've got to have some level of trust in people that they mean what they say and they're going to do what they say they will do, and you've got to put your cards on the table, come up with a package and then, move forward," said Edwards.
Tax negotiations continue today. The special session must end Wednesday.