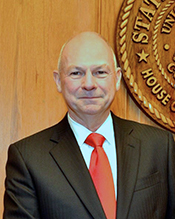 Sports betting is off to the races in dozens of states across the nation, but so far Louisiana has sat on the sidelines while neighboring states like Mississippi have elected to receive the expansion. Louisiana Gaming Control Board Chairman Ronnie Jones says after seeing how other states have started using the new cash, he's concerned the Bayou State may be losing on crucial revenue.


"If you're betting with a bookie at some bar where are those winnings going, I would suggest that they are probably not going to build playgrounds in disadvantaged playgrounds."
Jones says a bill legalizing sports gaming in Louisiana lost in the final seconds during the regular session after a risky play to allow the activity in video poker halls lead to a fourth quarter collapse. Jones says he believes a more conservative approach to allowing sports betting may succeed as early as next year.
"I believe that another bill will be introduced next year. I think it's going to happen in Louisiana, I just don't know when."
Jones says industry leaders have warned that barring sports betting could make it more difficult for the market to attract big money players and gamblers looking for more amenities, but cautioned that even if sports books were allowed into the state, it may not lead to a big score.
"It was five billion in Nevada last year, but it's a low profit margin, it's only five percent. So we don't know what the tax rate will be in Louisiana, which will determine how successful it will be here."