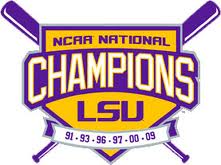 Temperatures for the series finale in College Station, Texas, were in the low 40s and LSU's bats were just as cold in a 3-1 defeat to the Aggies. For the third straight season, Texas A&M has won a series over the Tigers.
LSU was held to five hits and scored its lone run in the 8th inning on a bloop single by Zach Watson. But that inning ended when Watson was caught stealing.


Ma'Khail Hilliard was the losing pitcher. The freshman from Central had allowed three runs all season long going into his fifth start, but gave up three runs in five plus innings on Saturday.
Aggies right-hander Mitchell Kilkenny improved to 7-0 as he went the distance after retiring the first 11 batters he faced.
The loss drops LSU's record to 20-13 and 6-6 in the SEC.
They will be back home on Tuesday when they host 22nd ranked Louisiana Tech. Tennessee will be at Alex Box for a three-game series that starts on Friday.
We should get more information by Monday on Bryce Jordan, who re-injured his surgically repaired right knee. Jordan missed all of 2017 with a torn ACL. Before the game, Coach Paul Mainieri told the LSU Sports Radio Network that the trainer believes he injured the meniscus in his knee. He'll undergo an MRI in Baton Rouge.