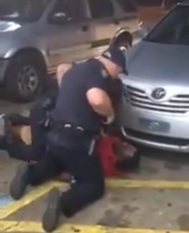 Now that we have an idea of how the Baton Rouge Police Department plans to defend the killing of Alton Sterling, experts believe the cops will claim they feared for their lives. A warrant filed this week by BRPD indicates Sterling resisted arrest, then the officers saw him reach for a gun before shooting. Legal analyst Tim Meche believes the cops will claim they had no choice.
"And that they were aware of other incidents where individuals were restrained, and were able to get their gun out and shoot police officers," said Meche.
The court documents say Sterling failed to comply with direct orders, and when the officers tried to subdue the man with tasers that didn't work. Meche says BRPD will argue the two cops "legitimately feared for their lives."
"The officers, in their minds, could have validly believed that this individual was capable of reaching for that gun and killing them," said Meche.