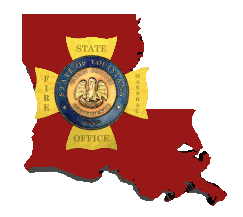 The State Fire Marshal's Office has ruled the fire at the Old Governor's Mansion and a historical museum in Opelousas as arson. Chief Deputy Brant Thompson says they're working both scenes separately. He says they are unsure if the arsons are connected but it's not being ruled out.

"Trying to gather evidence in hopes of identifying the perpetrator or perpetrators of these arson fires that occurred in Opelousas."
Thompson says the Civil-War Era Governor's Mansion has been deemed a total loss because of significant damage to the property. But he says there's better news for the other historic structure that caught on fire.
"The museum on South Academy, it's my understanding, while I've not been to the scene yet, that there is just a small amount of damage at that facility."
Thompson says the Old Governor's Mansion in Opelousas has erected in the 1850's and Governor Thomas Moore lived there during the peak of the Civil War. He says it had been undergoing renovations for quite a while…
"It's certainly very unfortunate. The information that I've received has attempts to indicate that it is a total loss."