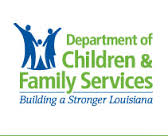 An audit of the state's foster care program unveiled some not-so-surprising shortcomings. Karen Leblanc with the legislative auditor's office says they found not all foster care providers had the required criminal background checks. They either had no check, or they were not completed in a timely manner.

She says that's not the only shocking discovery they made.

"We also found some cases where providers had former cases of abuse or neglect in the past but were then hired to be a foster care provider," Leblanc said.
The audit also found that not all children who came into the program received the necessary physical and behavioral health services. Department of Children and Family Services Secretary Marketa Garner Walters says they've been trying to call attention to the problem after the department lost 2,000 workers under the previous administration. She says cases workers average 16 cases each, putting a heavy burden on vital employees.
"The problem is that's an average. So in some places you might have close to a normal case load, but in most of the state you have higher levels of caseloads," Walters said.
The maximum recommended case load is 10 per case worker. Walters blames a high turnover rate and increasing number of foster kids in the system. That's why the legislative auditor recommended the department evaluate staffing levels and request additional funding. Leblanc says they're also recommending DCFS take advantage of other services offered in the state.
"If a foster parent commits a crime before they get another background check, state police will notify them of that. So that's a service that could help them," Leblanc said.
Walters says the department has already taken steps to improve the foster care program, like taking extra steps to hire new workers and restructuring the system to decrease the work load. She says they've also launched new programs like the Quality Parenting Initiative, which is a new way for the staff to work with foster parents.
"When you combine the Quality Parenting Initiative with the staffing changes that we have made, we are beginning to make a dent in this problem," Walters said.