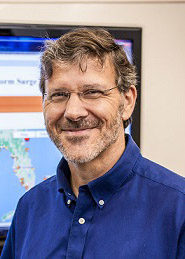 Louisiana will experience some roller coaster temperatures this week. State Climatologist Barry Keim says we'll see high temperatures in the 80s across the state over the next two days but a significant cold front will come in on Friday.


"This is going to usher in some much colder air, in fact, probably some of the coldest temperatures we've seen this season so far. We're going to have minimum temperatures in the 30s across most of Louisiana by Sunday and Monday."
Keim says Saturday will be relatively cool and breezy, with temperatures in the 50s in the morning and reaching the mid 60s in the afternoon. He says we see a lot of dramatic swings in temperatures during this time of year.
"Once we switch gears and have a front come through and start ushering in the Canadian air, the Canadian air is getting pretty darn cold right now. It's at this time of year we can swing back between those two conditions over a very short period of time."
Several high school football games have been pushed up to Thursday given the chance of severe weather, but Keim says the rain chances are fairly low.
"I think it's more than likely going to come through fairly dry across most of Louisiana and that's a problem because we really could use the rain across the state because the drought is really starting to sneak up on us and is starting to cause us some problems."