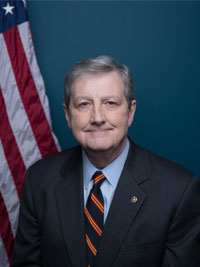 Congress has recessed for the summer and many lawmakers are disappointed not much was accomplished. U.S Senator John Kennedy believes some good was done with the approval of Neil Gorsuch to the Supreme Court. But he says his biggest disappointment was the failing to repeal and replace Obamacare by one vote.


"We're not giving up, we'll come back to it but we don't have the votes right now. We've got to get that extra vote. In the meantime, what we're going to work on is tax cuts."
Before the recess, the Senate approved a bill to fund the FDA. Kennedy says his plan for tax reform would be to cut everyone's tax bracket by two-percent, which would benefit every social class but mostly the middle class.
"It's the only way to get this economy moving again. We tried everything we know how to do on the monetary side with interest rates, we've got to do it on the fiscal side."
Kennedy says it's time to get the economy growing at three-percent again because right now it's at an embarrassing 1.8%. He says in the fall, Congress has a lot of work to accomplish.
"We've got to pass a budget, we've got to renew that The National Flood Insurance Program, that's extremely important. I would like to try to fulfill the President's promise of passing an infrastructure promise."