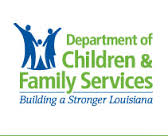 The Department of Children and Family Services launches a program aimed at improving the foster care system. On any given day, there are more than 4,000 Louisiana children in foster care. DCFS Secretary Marketa Garner Walters says they want to raise expectations for foster parents and caregivers through the new Quality Parenting Initiative.


"What quality parenting is about is making sure that every single child has a quality parent 24 hours a day every day, whether that parent is their birth parent, a foster parent, a relative," Walters said.
Walters says DCFS will work closely with foster parents, give them more authority to take care of the child, and offer help when needed. She says being a quality parent means doing everything for that child that a parent would do for their birth child.
"You go to school when they're playing baseball. You go watch them practice band. You take them to the doctor. You take them to their therapy appointment. You take them to the dentist. You're there for them all the time," Walters said.
Walters says this initiative is about allowing foster parents to act more as parents instead of temporary caregivers. Assistant Director for Child Welfare Renda Hodnett says this also means DCFS will expect more of foster parents.
"Expecting them to be at the table when we're making decisions, when we're talking about what's going on with the child, what is in the child's best interest, how to we plan for that child's future," Hodnett said.