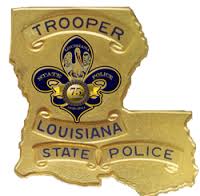 A Denham Springs man has died after hitting a horse in the road. State Trooper Bryan Lee says one of their troopers came upon the accident around 1 am.


"One of our troopers actually drove up on a horse in the roadway. Once he got out of his vehicle to check on the horse, he also notice a car in the ditch off the side of the roadway," Lee said.
Lee says 24-year-old Joshua Marange was killed in the accident. He says Marange was driving down US 190 in Livingston parish when he struck a horse that was standing in the eastbound lane. He says the crash did substantial damage to Marange's vehicle.
"The horse actually rolled up on top of the vehicle, tearing part of the roof off the car. That car then rolled off the roadway, struck a tree. The horse also died in that crash as well," Lee said.
Marange says impairment is not suspected to be a factor, but toxicology results are pending. He says they are still trying to locate the owner of the horse. He says drivers can call *LSP to report hazards in the roadway.
"This was not a well-lit area, but if you're passing through and you notice something on the side of the road or some type of hazard that just doesn't seem safe, you can contact us," Lee said.