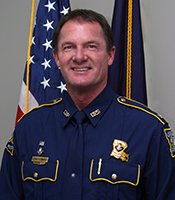 Colonel Mike Edmonson has no plans to resign even though U.S. Senator John Kennedy is calling on the head of the LSP to step down as result of four troopers charging the state overtime and hotel expenses while taking a side trip to Las Vegas and the Grand Canyon. Edmonson says Kennedy doesn't have the facts.

"A true leader precedes forward with the facts," Edmonson said. "They seek out the facts and they find out what went on and if there's changes that need to be made, you make those changes."
But Kennedy says enough facts are already out and he's disgusted as a Louisiana taxpayer.
"In the middle of a deep budget crisis, the Superintendent took 17 people on a road trip to San Diego, spent $70,000 in taxpayer money to get an award."
The controversial trip to the annual conference of the International Association of Chiefs of Police in San Diego occurred last October. During that trip, it was uncovered four troopers, including the head of the State Police's Internal Affairs Division, took a detour to Las Vegas and Grand Canyon.
The governor has auditors within the Division of Administration looking into the incident and Edmonson says State Police is conducting its own probe.
"Let's find out what happened, if policies and procedures need to be changes, we'll certainly change those," Edmonson said.
But Kennedy says if Governor Edwards wants to restore taxpayer confidence he'll call in the legislative auditor to perform an independent investigation.
"There are a lot of folks at the capitol who are scared of State Police and some of the folks at State Police are part of their good ole boys club, I get all of that, but this is taxpayer money and it's not right."
Kennedy says this is not the first time Edmonson has tried to abuse taxpayer dollars. He cites the time when a bill passed that boosted his retirement. The legislation was eventually removed from the books.