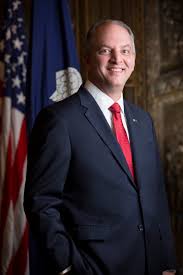 Governor-elect John Bel Edwards knows he has a challenging year in front of him, but he's looking forward to spending the next couple of days with family for the Christmas holiday. Edwards says his family gathering at his mother's home in Tangipahoa Parish on Christmas Eve.
"It's a busy time, because I have five brothers and a sister and we are all going to be there, with our spouses and children. Some of them have grandchildren. We'll have a big gathering there."


Edwards says his contribution to the Christmas dinner is oyster soup. He says another family tradition is to watch the black-and-white version of "It's a Wonderful Life."
He says he'll also spend the Christmas holiday reflecting on the huge challenge in front of him, one that he embraces.
"I think we've been given a wonderful opportunity to come together to solve our biggest problems, fix this structural budget deficit, so we can start investing again in things that we all believe our priorities."
Edwards says his transition teams have been busy since the election day working on solutions to improve transportation, education and health care.
"We haven't been doing well over the last several years and it's time to stop pretending and get to work."