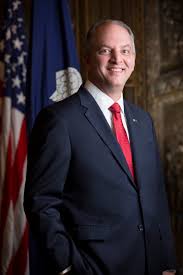 On the opening night of the special session, Governor John Bel Edwards laid out his reasons on why the state legislature should use 119-million dollars from the rainy day fund to address a 304-million dollar shortfall. Edwards says without using it, cuts will likely have to be made to higher education, public schools and social services like foster care.
"This is the most justified use of using the Rainy Day fund in my decade of public service," Edwards said.

Edwards says the Rainy Day fund was tapped four times during former Governor Bobby Jindal's administration. There's concern by some lawmakers of draining the fund down to zero, but Edwards says that won't happen thanks to BP settlement dollars.
"This will happen for 15 years, beginning in 2019, for a total of $360 million that will flow into the Budget Stabilization Fund," Edwards said.
There have been several Republican lawmakers who have advocated for more cuts to the budget. Edwards says if here's there's another option out there, let's discuss it.
"But please don't resort to budget gimmicks; propose your cuts honestly and transparently. And let's debate it. Let's hear from our constituents and stakeholders," Edwards said.
It will take a two-thirds vote in the both the House and Senate to take money out of the Rainy Day Fund. The Senate Finance committee begins discussion on Tuesday afternoon.
The special session must end by midnight on February 22nd.