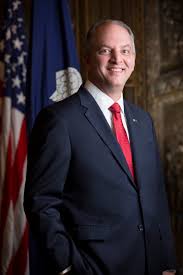 While many Louisianans will be celebrating Mardi Gras this weekend, Governor John Bel Edwards is heading to Washington to discuss more federal assistance for flood recovery and the recent tornadoes in south Louisiana. The governor's Communications Director Richard Carbo says Edwards will meet with the acting FEMA Administrator today to discuss recovery for tornado victims.


"They have some needs that they want, and so the governor's going to have the opportunity to talk directly with the administrator about some of the things we need to help folks recover from the tornadoes last month," Carbo said.
Carbo says on Monday Edwards and other governors from around the country will meet with President Donald Trump. He says this meeting will give the governor a chance to discuss his request for an additional $2 billion in federal flood recovery aid.
"We're still $2 billion short of our ask of the federal government for flood relief. So he will make that request to the President personally on Monday," Carbo said.
Governor Edwards has said another $2 billion is needed for Louisiana to have a full and robust recovery from the Great Flood of 2016. Carbo says that's why Edwards will also meet with House Majority Whip Steve Scalise and the new director of the Office of Management and Budget to discuss the state's unmet needs.
"That's money that will go to infrastructure in the state to help prevent this flooding from happening again in the future, but the largest chunk of it would go to helping homeowners rebuild and businesses get back on their feet," Carbo said.