Posted on 11/14/2018 3:13:00 PM.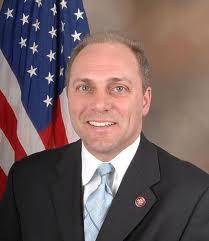 Congressman Steve Scalise will be House Minority Whip for the 116th Congress after winning in a unanimous vote. UL Lafayette Poli Sci Professor Pearson Cross says as the current Majority Whip, it's a role Scalise is very familiar with.
More
Steve Scalise, mid terms, Republican, Democrat, Louisiana, politics, 2018, whip
---
Posted on 11/14/2018 12:35:00 PM.
Many residents in north central Louisiana woke up to snow falling on Wednesday and it goes down as the earliest accumulation of snowfall for that part of the state. National Weather Service Shreveport meteorologist Mario Valverde says a light dusting of snow covered several parishes, but the most accumulation was in Monroe.
More
Winter Weather, Shreveport, Monroe, Snow, National Weather Service
---
Posted on 11/14/2018 11:44:00 AM.
Governor Edwards is criticizing a decision by Interim Secretary of State Kyle Ardoin to publicly claim the former Mayor of New Roads "illegally cast his ballot" in the midterm election, when the Governor says further review showed Robert Myer was actually eligible to vote.
More
Governor, John Bel Edwards, Secretary of State, Kyle Ardoin, Gwen Collins-Greenup, voter fraud, voting, midterm, run-off, Louisiania, 2018
---
Posted on 11/14/2018 11:19:00 AM.
One of the nation's top high school running backs in the nation has committed to LSU. Destrehan's John Emery is rated as the second best running back in the country, according to 247 sports.
Tiger Rag Editor James Moran says Emery could be the next great running back to come through Baton Rouge
.
John Emery, LSU, Tiger Rag, Georgia, recruiting, 5-star, Destrehan
---
Posted on 11/13/2018 10:48:00 PM.
Food banks are seeing empty shelves as the holidays are approaching. President and CEO of the Greater Baton Rouge Food Bank Mike Manning said the nation responding to areas hardest hit by natural disasters are having a negative impact of the food bank's ability to fill the shelves with food.
More
Food Banks, Baton Rouge, Natural Disaster, Holiday Season
---
Posted on 11/13/2018 5:39:00 PM.
Legislative Auditor Daryl Purpera says the state's Medicaid program potentially paid 85-million dollars in medical costs for people who may not have been eligible for benefits. Medicaid previously only checked wage eligibility every 12 months, and Purpera says that led to over payments relative to other states who check eligibility more frequently.
More
medicaid, legislative auditor, Daryl Purpera, Jen Steele, LDH, healthcare, Louisiana, 2018
---
Next Entry