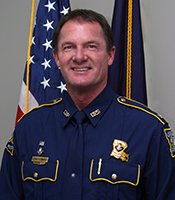 The Governor's Office says speculation that State Police Col. Mike Edmonson will step down is just a rumor. The State Police Superintendent has been surrounded in controversy over questionable travel by state troopers, and now troopers are being subpoenaed for a federal investigation looking into illegal campaign donations. President of the Metropolitan Crime Commission, Rafael Goyeneche, says none of this looks good for LSP.


"Mike Edmonson, as the head of the organization, is largely responsible for the problems. The buck stops with the superintendent," Goyeneche said.
Goyeneche says the investigations are undoubtedly a distraction for the agency. The Legislative Auditor's Office says they will launch their own investigation into state police travel spending. Goyeneche says the public deserves to know how LSP is spending public funds.
"Whether he comes or goes, stays or leaves, I believe that both of the investigations need to go forward, and I believe they will go forward," Goyeneche said.
Goyeneche says questionable acts involving Edmonson have been taking place for the last few years. In 2014, a bill was approved to increase Edmonson's pension. The Colonel denied knowing about the legislation. He says Edmonson did the same when it was learned that someone signed off on the troopers' controversial side trips.
"When the Colonel gets caught in an embarrassing situation, he deflects responsibility to people underneath him," Edmonson said.