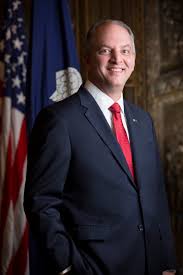 The 2017 session is underway and Governor John Bel Edwards told lawmakers now is the time to pass long-term tax reform that provides budget stability, so Louisiana can better fund its priorities. Edwards is pushing a plan that would increase taxes on many businesses, but promises to lower taxes on most Louisiana residents.


"We've got to have a serious conversation about how to move the state forward and then we must act. If not the people of Louisiana are going to have some tougher days ahead."
During an address to a joint session of the legislature, the governor also pushed legislators to pour money into roads, even if that means increasing the state's gasoline tax.
"Otherwise we'll continue to lag behind and our roads will be less safe and clogged with traffic congestion."
The legislative session will last for two months. During that time, the governor will call on legislators to pass a series of changes to the state's criminal laws in effort to lower the state's incarceration rate. He also wants legislators to raise the minimum wage and pass legislation that ensures women receive the same wages as men for equal work.
"When a mother goes to the grocery store to buy a gallon of milk, it doesn't cost 33% less because she's a woman."