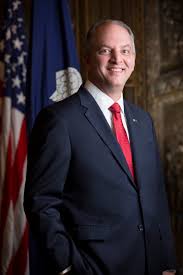 Governor John Bel Edwards released an email poll asking if Louisiana residents support raising the minimum wage. ULM Political Science Professor Dr. Joshua Stockley says this survey is more about fundraising, as many of his supporters already want to increase the state's minimum wage, which is $7.25.


"Going to click on the poll to indicate yeah of course I support minimum wage and while you're there, you're directed to support his campaign because he supports minimum wage."
Stockley says this message was also sent out to raise awareness that this is a campaign pledge the governor ran on and he continues to support it. He says Edwards is looking for more public support, as this issue is not gaining traction in the legislature.
"You're hoping that general awareness is raised and the public gets fired up about minimum wage and then they lean on their legislators to support minimum wage."
Bills to increase the minimum wage have been introduced in the legislature the last two years, but despite the governor's support they have failed to make it through the process. Stockley says since the governor has made it known he plans on running for reelection in 2019, it's important that he continues to fight for a higher minimum wage.
"Because if he doesn't fight for it, his supporters say well you promised this and then you quickly dropped it. Most of us aren't going to buy political expediency."