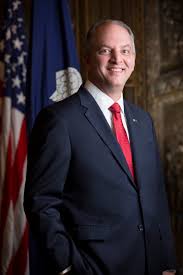 Two years ago today, John Bel Edwards was elected as Louisiana's 56th governor. Edwards' approval ratings are solid, but political analyst Clancy Dubos says there's no guarantee the Democrat from Amite will be re-elected.


"His Republican adversaries are planning to run any one of a number of a number of potential candidates against him and they're already raising lots of money. They are trying to thwart him legislatively so he cannot claim too many victories."
Dubos says if the governor is able to help solve the state's fiscal problems, it will greatly help his re-election chances in 2019.
"Voters want the state's fiscal problems solved. They do not want cuts to higher ed, they do not want cuts to public hospitals."
Edwards sent an email today to supporters asking for donations. The governor's latest campaign finance report shows he has three-point-three-million dollars on hand, but Dubos says Edwards will need every penny he can get it.
"And he has to raise money because his adversaries are raising money already against him and messaging against him."