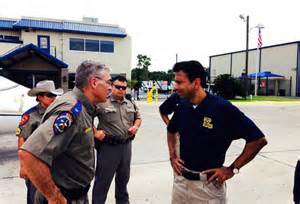 Michelle Southern reporting.
Governor Bobby Jindal will be among those who are headed to the Mexican Border today for a security briefing and tour by the Texas Department of Public Safety. State Police Col Mike Edmonson says they have no information about the undocumented immigrants coming to Louisiana and they need some answers.
"Are we identifying these kids that are coming across? Are we getting an age? Are we getting where they're going? What about their backgrounds with concerns to their health records," said Edmonson.
Edmonson says there are about 1100 kids in Louisiana right now who were sent here and they need to know where they are. He says the state should have information.
"Those are unanswered questions that the state should know because someone is going to have to pay for them, feed them, educate them, clothe them and give them healthcare," Edmonson said.
The visit will include an air and marine tour of the border. House Speaker Chuck Kleckley is also making the trip because he says everyone at the Capitol needs to remain informed and take appropriate steps to ensure the safety of Louisiana citizens.
Edmonson says they know so little about what's going on with these people coming into our state.
"They are just sending them in and we're learning about it after the fact," said Edmonson. "That is not the proper way to do things."