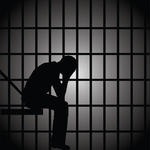 Inmates paying child support would have their payments suspended under a House-approved measure by Gretna Representative Joe Marino. The measure suspends payments for inmates who've been incarcerated longer than 180 days and who have no other means of income. Some of the strongest opposition came from Albany Representative Sherman Mack.


"No judge in this state is going to put somebody back in jail for not paying their child support while they were in jail. That wouldn't make any sense because the other party is not going to get their money anyway," Mack said.
But Baton Rouge Representative Ted James disagrees. He says most good judges wouldn't put someone back in jail for not paying child support, but some will. He adds it's hard for inmates to walk out of jail and find a job, and this will give them a chance to get financially stable.
"When someone is released from jail, they don't walk out into a world with the hands held open for them to come in and get a job to support their family. Let's live in reality. It doesn't happen," James said.
The measure would exclude inmates incarcerated for domestic abuse charges or for not paying child support in the first place. Marino says this proposal came out of the Criminal Justice Reinvestment Task Force with a unanimous recommendation. He says more than 20 other states have similar laws on the books, and it also complies with federal law.
"You have to look at their actual income. That's what the federal government is telling us and the federal rule says. The actual income of someone who is incarcerated is zero," Marino said.
The measure passed the House on a 68-30. Marksville Representative Robert Johnson voted against and said that an offender made a choice to break the law, and therefore they are voluntarily under employed. Mack agrees and says this legislation does not support the children in these situations.
"What about the benefit of the child? You're talking about the rights of someone, like Representative Johnson said, who voluntarily committed a crime to put himself in jail. What about the child?" Mack said.
The proposal still needs Senate approval and the legislative session ends Thursday.