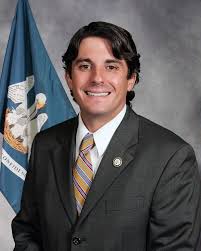 House Appropriations Chairman Cameron Henry says get ready to hear scare tactics coming from the governor's office. In a video posted to his Facebook page, the Republican from Metairie says he expects Governor Edwards to start threatening cuts to important programs like TOPS.


"We all know he doesn't like TOPS anyway, but that will be cut if he doesn't get a billion plus dollars. I think after that, you're going to see services be next, anything that has to do with Now Wavers, anything that adversely affects people in Louisiana."
The state is facing a fiscal cliff, because a billion dollars in temporary sales taxes expire in July. The governor has been holding meetings with business leaders to come up with ways to make up for the loss of state revenue. Henry says the governor should be asking executives how the state can help their business grow, instead of what kind of taxes they can afford.
"This is obviously the worst form of economic development on the planet and it's going to continue to put is in a position where we're constantly looking for more money."
The governor's Deputy Chief of Staff, Richard Carbo, says Henry is intent on continuing partisan gridlock in the House. Carbo says the governor is working with the House Speaker to come up with a bipartisan plan that doesn't raise new revenue. But Henry says the governor is looking to keep a temporary one-cent state sales tax, instead of reducing state spending.
"He's going to call it a bridge, so we're going to bridge the gap for three years, as if in three years he's all of a sudden going to stop spending more money than we have. I think that's a cop out."