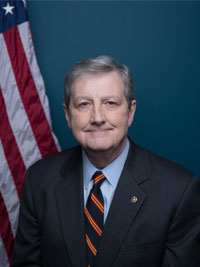 Congress will be tasked with reauthorizing the National Flood Insurance Program once lawmakers reconvene in September. This has become an even bigger priority as hundreds of thousands of homeowners cope with the flood waters left by Harvey.

US Senator John Kennedy says homeowner's insurance only covers things like wind damage and fires, not flooding.
"For most Americans and most Louisianans, their largest single investment is their home, and that needs to be protected, and you can't do it with just homeowner's insurance," Kennedy said.
Kennedy says the NFIP is the only option for homeowners to cover homes for flooding. He says the amount of flooding from substantial rainfall has doubled in the past decade. He says virtually no one in the country today is immune from flooding, no matter where you live.
"If you get 20 inches of rain in two or three days, you're going to flood. I don't care if you live on Pike's Peak," Kennedy said.
The NFIP must be reauthorized before it expires on September 30. Kennedy has introduced legislation that would reauthorize the program for 6 years. He says it would also cap premium increases at a lower level than the law currently allows.
"It implements a lot of savings. We would save about $400 million that we would spend on mitigation efforts, in other words to prevent the flooding," Kennedy said.