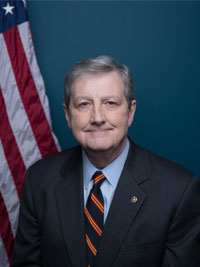 Tax reform remains hanging in the balance as U.S. Senators are considering an overhaul that Republicans say will give an average family of four an additional 14-hundred dollars in annual income. The bill passed the Senate Budget Committee Tuesday 12-to-11 and heads to the Senate floor. Senator John Kennedy cites three benefits
.


"I think it will add at least a half a point to our Gross Domestic Product, I think it will create jobs and I think it will help wages to go up."
The debate has gone on for several weeks as both sides of the aisle pour over proposals to make the tax code less confusing and bring benefits to corporations. Kennedy says sufficient time has passed for consideration of the bill and it's time to get things done.
"A few days before Thanksgiving I wanted to keep going. Not one of my colleagues agreed. So we took a break for Thanksgiving. But now it's time to vote."
Kennedy says he supports a tax reform plan that will mean less money for government and more for taxpayers.
"People and businesses can spend the money they earn better than government can. And the problem we've got with the economy is that government is growing faster than the economy."