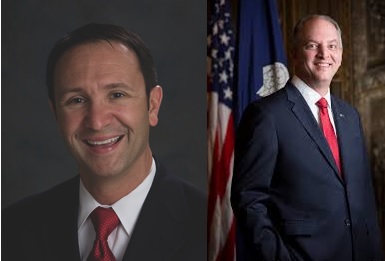 The feud continues between the governor and the attorney general as Jeff Landry has once again filed suit against John Bel Edwards. The lawsuit states the governor's office doesn't have the right to withhold $4 million in operational funds from his agency.


Landry says Edwards wants to circumvent the rules and continues to play politics with the state Department of Justice.
"He has consistently thwarted money that the legislature has appropriated to us and that's necessary for us to run this office."
The Edwards Administration released a statement claiming this lawsuit is nothing more than a dog and pony show. The governor has said the money that is coming from 2014 pharmaceutical settlement is not legally Landry's dollars to spend. But the attorney general says Edwards is jeopardizing the operations of his department.
"The governor wants to try to impact our services. He's trying to play politics in a way that hurts the people of the state of Louisiana and unfortunately we had no other choice but to go to the courts."
The lawsuit comes one day after Governor Edwards called on legislators to leave partisan politics out of the debate overhauling the state's tax structure. But Landry says Edwards is being a hypocrite by withholding money that belongs to his office.
"It's the same type of politics that he claims is being injected into Baton Rouge, he's leading that cause."
Last year Landry and Edwards exchanged lawsuits language involving the governor's LGBT executive order.