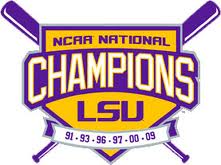 LSU freshman left-hander Jake Latz will start on the mound Tuesday night for the Tigers when they take on Tennessee in the SEC Tournament. Latz has only appeared three games this season as he recovered from elbow surgery. But Coach Paul Mainieri says Latz pitched well on Saturday and hopes his arm troubles are behind him.


"He could be a vital force for us, not only for next year, but for the remainder of the season," Mainieri said.
Mainieri also had the option to use seven-game winner Alex Lange, who last pitched three innings on Thursday, because the game was halted because of severe weather. Mainieri says Lange will pitch Wednesday night against Florida, if the Tigers win tonight.
"We need Alex to be 100% healthy and ready to go as we go into the NCAA tournament next week, so we just didn't want to rush him back," Mainieri said.
LSU enters the SEC Tournament with 11 victories in their last 12 games and they've put themselves in a position to possibly be a Top 8 National seed and host up until the College World Series. Mainieri says his team is worthy of Top 8 national seed consideration.
"We could make a good showing here, I hope we would get strong consideration. I like the way our team is developing, and I think we have a chance to make a run in the NCAA tournament," Mainieri said.