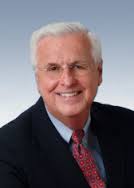 The Louisiana Department of Insurance announces they recovered $7.6 million for policyholders last year as a result of efforts by their consumer affairs division who work to resolve consumer complaints. Insurance Commissioner Jim Donelon says that money is in addition to what companies offered to pay customers, and it's a significant increase over the previous year.


"Compared with just over $5 million a year ago. Our complaint volume has increased from 3,600 to 4,300 during the past year," Donelon said.
Donelon credits the increase in recovered funds for consumers to a reorganizing within the insurance department two years ago. He says they moved all of the people who handle consumer complaints into the same section, as opposed to dividing them up between health, life and annuities, property, etc.
"It has all been consolidated into one division at the department, and that has created more uniformity and efficiency that I think has resulted in this additional recovery," Donelon said.
Donelon says it's the state's responsibility to make sure insurance companies fulfill the promises they make to their policyholders. He says they'll do whatever it takes to ensure that Louisiana customers are treated fairly, including yanking a license or taking punitive action against an insurance provider.
"That enables us to have this level of success on behalf of consumers when they have an issue with their insurance company," Donelon said.
Policyholders can file complaints at 1-800-259-5300 or online at ldi.la.gov/fileacomplaint.