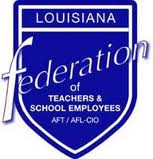 The US Department of Education would face a $9 billion budget reduction under President Trump's budget proposal, and one of the state's major teacher unions is not happy about it. Les Landon with the Louisiana Federation of Teachers says it would devastate public education. And he says dollars for private and religious schools would increase by $1.4 billion to help pay for vouchers.


"It's apparent to us that they are favoring private and religious education over our traditional public schools," Landon said.
Landon says under the proposed budget, Louisiana would lose more than $51 million in funds used to recruit, train, support, and pay teachers. He says that's bad enough, but unfortunately it gets worse.
"We would also lose $22 million in Title VI funds, and those are used to provide after school programs for children," Landon said.
Education Secretary Betsy DeVos told the National Association of State Boards of Education that the President promised to invest in underserved communities and investing in school choice programs will do just that. But Landon says they have a big problem with spending public funds on private and religious schools for "school choice."
"Children in these private and religious schools that get vouchers actually perform at a lower academic level than children in traditional public schools," Landon said.
DeVos says their goal is to provide an equal opportunity for quality education for all students.