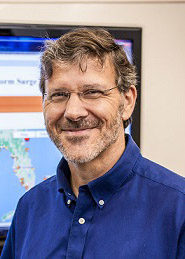 The World Meteorological Organization announced 2016 was officially the warmest on Earth since 1880, when record keeping began. State Climatologist Barry Keim says we've gone three straight years for breaking the warmest year on record. He says there is clearly a pattern of increasing temperatures.


"Which this past year was compounded by several months of El Nino, whereby El Nino helped boost the global temperatures by maintaining very warm sea surface temperatures in the Pacific Ocean."
Keim says Louisiana saw its third warmest year on record. The warmest was in 1921. He says the state's biggest concern with these increased temperatures worldwide is melting glaciers.
"As the global temperatures increase, we're melting back the glaciers in Antarctica and Greenland in particular. Both contribute significantly to raining mean sea level, which is only going to further inundate Louisiana, which is already sinking."
Keim says the average temperature in Louisiana for 2016 was 68.7 degrees. And he says 2017 is already off to an extremely warm start.
"Last week we ran 12 degrees above normal, which is very unusual to have a departure that large for an entire week."