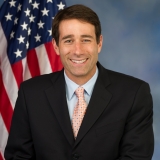 Congress will reconvene today now that the election is over, which means Louisiana's congressional delegation will resume their efforts to get more federal funds appropriated for flood recovery. Baton Rouge Congressman Garrett Graves says right now the state still needs to come up with a plan for spending the $438 million they've already received.


"Us asking Congress for additional dollars while there's $438 million sitting in the bank that has not been touched makes it really difficult for us to argue that there's an urgency," Graves said.
The Governor's Office says the Restore Louisiana Task Force has delayed a vote on how to allocate the funds because the money is tied up in red tape. But Graves says even though they will need HUD's approval for the plan, the state needs to submit one sooner rather than later.
"This isn't the first time this has happened. This should be a cut and paste scenario, and the White House certainly could expedite the availability of those dollars," Graves said.
Graves says at this point, they aren't sure how many payments Louisiana will receive because president-elect Donald Trump's victory changes the dynamic. He says they'll probably have to approve a short-term plan before he takes office in January.
"Congress is going to do an appropriations bill in December that probably provides funding for a few months, and then we'll come back again in early 2017 and negotiate another appropriations bill," Graves said.