Posted on 11/21/2017 3:00:00 PM.
Holiday shopping is expected to increase in Louisiana. That's the view of LSU Marketing Professor Dan Rice who says households have largely recovered from the 2016 floods and the state's unemployment rate is the lowest it's been since 2008
.
holiday shopping, black friday, Ana Searfin Smith
---
Posted on 11/21/2017 2:28:00 PM.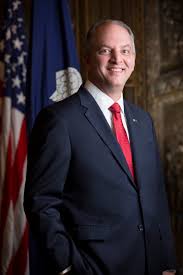 Two years ago today, John Bel Edwards was elected as Louisiana's 56th governor. Edwards' approval ratings are solid, but political analyst Clancy Dubos says there's no guarantee the Democrat from Amite will be re-elected.
More
John Bel Edwards, governor, Clancy Dubos
---
Posted on 11/21/2017 12:45:00 PM.
A report released today finds that Louisiana's drug, alcohol and suicide death rate could increase 42 percent in the next ten years. Well Being Trust helped put the study together and it's chief policy officer, Ben Miller, says the opioid epidemic is at the root of this troubling report
.
suicide rates, drugs, Well Being Trust
---
Posted on 11/21/2017 11:49:00 AM.
Nicholls State is preparing to host its first ever college football playoff game. Athletics Director Matthew Roan says since the announcement was made that the Colonels are hosting a playoff game, the ticket's office phones have not stopped ringing.
Nicholls State, Tim Rebowe, Matthew Roan, FCS, playoffs
---
Posted on 11/21/2017 11:40:00 AM.
Delhi Senator Francis Thompson, who has served in the state legislature for 40 years, will undergo surgery next month for prostate cancer. Thompson says he's never spent a night in the hospital, even when he was born.
More
Delhi, Francis Thompson, prostate cancer
---
Posted on 11/21/2017 4:38:00 AM.
State Police is reminding holiday travelers that buzzed driving is drunk driving. Sgt. James Anderson says 10 people died and over 700 injured in crashes in Louisiana during the Thanksgiving holiday weekend.
More
LSP, holiday weekend, buzzed driving, drunk driving, James Anderson
---
Next Entry