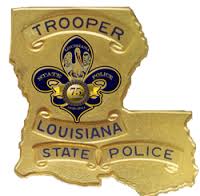 35 future State Police cadets will graduate as part of the 97th Louisiana State Police Cadet class today. Sgt. Jared Sandifer says the class was one of the smaller ones from recent memory. They started with 49, but it's still a very good success rate with 71% of the class graduating.
"That is a very good number. That's going to be 35 more state troopers out there keeping the people of Louisiana safe."

Sandifer says this is the second class they've graduated in recent months. But they are already looking ahead to the 98th cadet class.
"We are still hiring. We are looking to do a new cadet class in the next several months. So anyone out there who wish to become a law enforcement officer, that might be interested in becoming a state trooper, we invite you to come reach out to us."
Sandifer says after their graduation today, the new troopers will continue their training.
"We call that our field training officer program. So they're going to be paired with that trooper. They're be riding with them, learning how we do things. They'll be learning from experienced troopers how to stay safe. How we keep people safe."