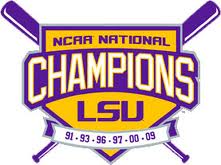 15th ranked LSU entered its series with Auburn in an offensive slump. They leave the three-game set with some renewed confidence after a 10-5 victory to take the series.
Beau Jordan hit a 2-run home run and Jordan Romero finished off a terrific series with a 3-run shot in the 7th inning to give the Tigers a 9-5 lead.


Jordan had 3 hits to raise his average to .355. Freshman third baseman Chris Reid also had 3 hits and scored twice. Lead-off man Kramer Robertson had two hits, two runs scored and drove in two runs.
LSU was 5-of-10 with runners in scoring position. Clutch hitting was lacking during the Tigers offensive woes.
John Valek III (5-1) pitched well after giving up three runs in the 1st inning and he earned the win. Parker Bugg was the real hero on the mound.
Bugg came on in the 6th inning for Alden Cartwright, who left the game with what appeared to be a serious arm injury. When Bugg entered the game, bases were loaded, with one out and the Tigers led 6-4.
Bugg only allowed one of those runners to score and got out of the inning with a strike out, with the bases jammed.
It was the first save of the season for Bugg, who lowered his ERA from 6.75 to 4.85.
LSU improves its record to 18-9, 4-5 in the SEC. The Tigers host Southern on Tuesday and then 3rd ranked Vanderbilt visits Baton Rouge for an SEC series that begins Thursday.