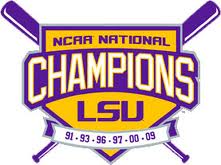 After scoring 11 runs on Saturday to clinch a series victory over Tennessee, the Tigers scored in double digits again on Sunday as they won 10-7 to complete a sweep of the Volunteers.
The Tigers hit two home runs, one in the top of the 6th by Bryce Jordan, the other was by Antoine Duplantis in the 8th.

Duplantis' blast was a three-run shot and it ended up being the difference in the game.
LSU jumped out to a three-run lead in the 2nd inning. Cole Freeman's two-run triple was the big hit.
The Tigers built a 6-2 lead in the 6th inning on the homer by Jordan and an RBI triple by Greg Deichmann.
But Tennessee tied the game at six, by scoring two runs in the 6th and two more in the 7th inning.
LSU took the lead for good with a 4-run 7th.
Duplantis drove in four runs on the day. Bryce Jordan had three hits, two runs scored and two RBI. Deichmann and Freeman drove in two runs as well.
It wasn't a great day on the mound for the Tigers. Freshman Caleb Gilbert was the starter and he allowed two runs in three innings as he walked three in his second career start.
Austin Bain and Parker Bugg each allowed two runs in two innings of work. Hunter Newman also allowed a run in two innings. Bugg was awarded the win to improve his record to 1-2.
But the Tigers completed their five-game road trip with a perfect record and they bring an eight-game winning streak into the final four regular season games of the year.
LSU hosts Northwestern State on Tuesday and then number one ranked Florida travels to Baton Rouge to begin a three-game series on Thursday.
The Tigers are tied for first in the SEC West, but still in the running to win the West.