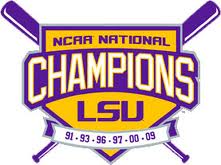 After losing on Saturday night to Alabama, who has the worst record in the SEC, Sunday's series finale was considered a "must win" for a Tigers team fighting to receive a berth in the NCAA Tournament.
LSU delivered with its backs against the wall with a 7-3 victory over the Crimson Tide.

On Senior Day, freshman Daniel Cabrera led the way with a two-run home run in the 5th inning and then a two-run double in the 6th inning.
Senior Beau Jordan had three hits and sophomore Jake Slaughter had two base knocks, including an RBI single in the 3rd inning to give LSU a 2-1 lead.
And Senior Austin Bain homered to tie the game at one in the 2nd inning.
With AJ Labas not able to pitch, because of a shoulder injury, Nick Bush came up big. The sophomore left-hander pitched six strong innings, allowing just one earned run on five hits and two walks. Bush's ERA is down to 3.11.
The win gives LSU a 14-13 record in the SEC. That's sixth best record in the SEC. The Tigers will host Northwestern State on Tuesday and then face Auburn in a series that starts on Thursday. The War Eagles were swept by 8th ranked Ole Miss this past weekend, after sweeping Vanderbilt the weekend before.