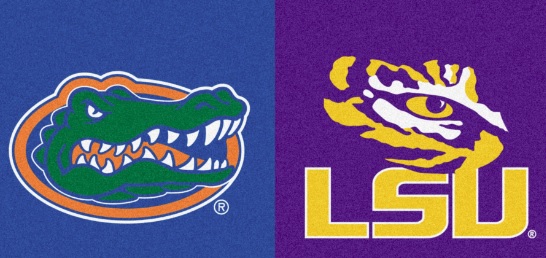 Florida a two touchdown underdog comes into Tiger Stadium and shocks the LSU Tigers 16-10 to win the SEC East. The loss for the Tigers most likely keeps them from playing in the Sugar Bowl and makes it less certain that Ed Orgeron remains the head coach.
Red Zone issues: LSU had five trips inside the red zone and scored just one touchdown. Tigers running back Derrious Guice fumbled the ball inside the 10-yard line in the 2nd quarter when LSU had a chance to take a 14-3 lead. In the 3rd quarter, Josh Growden could not handle a snap on a field goal try which prevented the Tigers from taking a 10-3 lead.
LSU had a chance to tie and win it with an extra point in the final seconds. But Guice was stopped short of the goal line on 4th and goal from the one-yard line.
Injuries: LSU running back Leonard Fournette was not expected to play based on reports. But after a pregame shoving match that involved players and assistant coaches, Fournette suited up. But it was not the same Leonard. He had 12 carries for 40 yards and did not play in the 4th quarter.
LSU starting linebacker Kendell Beckwith went down with a leg injury in the 1st half and he was sorely missed the fourth quarter as Florida's run game started picking up big chuncks.
Running backs: Not only did he fumble in the red zone, but Guice was also denied a game-tying touchdown on the final play of the game. The Baton Rouge rushed for 83 yards on 19 carries and one touchdown, against a good Florida defense.Coach Ed Orgeron said Guice ran the wrong way on the play.
Sophomore Jordan Scarlett had a nice game for Florida as he gained 108 yards on 22 carries and showed the ability to break tackles.
Dante's tough day: It was a tough day for LSU sophomore cornerback Donte Jackson. He was burned on a 98-yard touchdown play as Tyrie Cleveland got past him on a fly pattern and then Jackson missed the tackle after Cleveland caught it. Jackson also fumbled a kickoff return in the 4th quarter.
LSU's offense: The Tigers offense did a lot of good things, except score touchdowns. They had 423 total yards, 219 rushing and 204 passing. LSU was also 7-of-14 on 3rd downs and one big pick up on 4th and 10.
What it means: Florida will play in the SEC Championship game. And Orgeron might be getting ready to head coach his final game at LSU. The two losses under Coach "O" and LSU scored just 10 points. Granted they played two really good defenses, but in college football, offense rules the day.
Also, hard to say what bowl game LSU will play in. Maybe Liberty Bowl. It will also be interesting to see how this team will respond for the Thanksgiving game against Texas A&M.