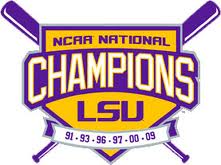 The 6th ranked LSU baseball team was in jeopardy of being swept in the SEC opening series, but the Tigers caught a break and made Alabama pay, as they avoid the sweep with a 7-5 victory over the Crimson Tide on Sunday afternoon
.

LSU trailed 4-1 heading into the bottom of the 8th, but they erupted for six runs in the inning. They had only scored 4 runs in the entire series up until that point.
The inning started when Jordan Romero walked. Greg Deichmann singled to center putting runners at 1st and 2nd. Bryce Jordan singled which loaded the bases.
Brody Wofford came up as a pinch hitter and hit a laser up the middle to drive in two runs and make it a one run game.
Two batters later, the Tigers took their first lead of the series when Kramer Robertson lifted a shallow fly ball to right field. But Alabama right fielder Chandler Taylor lost the ball in the sun. The ball fell harmlessly to the ground, allowing two runs to score.
LSU added two more runs, when Beau Jordan singled through the left side, scoring Cole Freeman and Robertson was also able to score when Crimson Tide misplayed Hunter Webb misplayed the ball.
Recording the victory on the mound was closer Caleb Gilbert who threw 2.1 innings and allowed one run, but struck out four.
John Valek started on the mound and pitched well. The left-hander gave up two runs in six innings and struck out eight.
The win improves LSU's record to 14-5. They will play UL Lafayette on Tuesday night in the annual Wally Pontiff Classic at Zephyr Field in Metairie.