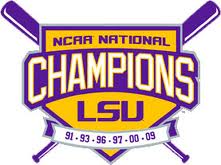 It was a miserable day in Lexington on Sunday. Cold, breezy and bone-chilling rain fell for much of the game. But that didn't seem to bother Kentucky. The Wildcats jumped on LSU starting pitcher Eric Walker early and kept adding on as the game went for a 10-2 victory over the Tigers.
Walker (5-1) has been LSU's most consistent starter in SEC play, but he didn't have it against Kentucky. He gave up four runs in the first inning and was pulled in the third inning after giving up seven runs.
LSU's starting pitchers allowed 15 runs in 11 innings in Lexington.
Kentucky would score three more runs off of reliever Austin Bain.
LSU gave up a season-high 18 hits.
Meanwile, LSU's hitters could only muster six hits against Kentucky starting pitcher Justin Lewis. The tall right-hander allowed one earned run in a complete game effort and struck out five.
A Josh Smith RBI single and a Nick Coomes solo home run was the only offense for the Tigers. Coomes has an 11-game hitting streak. Zach Watson extended his hitting streak to 15 games, while Greg Deichmann's ends at 11 games.
The defeat drops LSU's record 27-14, 10-8 in the SEC, tied for 4th place in the West Division. The Tigers were 10-8 at this same point last season.
LSU will be on the road this week. They will visit Tulane on Tuesday and then travel to Tuscaloosa for a three-game series that begins Thursday at Alabama. The Crimson Tide has the worst record in the SEC at 2-16